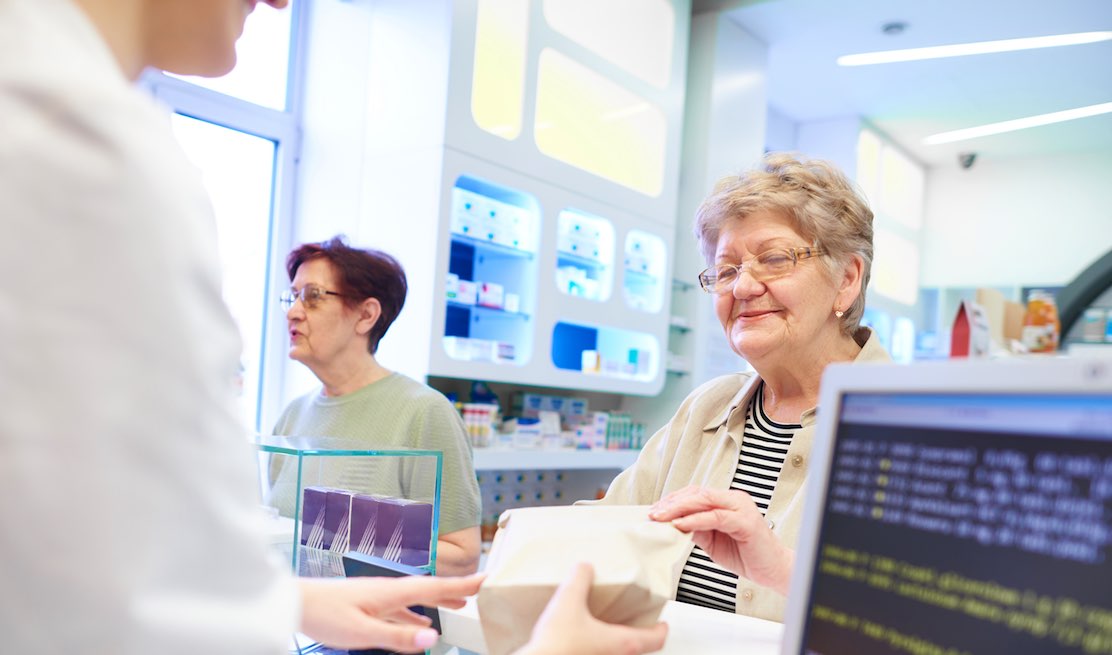 There are certain times throughout the year when you're able to get a prescription drug plan with Medicare.

Whether you've been on Medicare for a while, or are just starting, there are certain steps you'll need to take when choosing a plan.
Not all Part D drug plans are the same, so when your prescription needs change, you'll need to change your drug plan with them.
Here is a list of steps you should take when choosing a plan.
1. Gather a list of your medications.
The first thing to remember is that all the plans are different. Not every plan pays the same even for the same prescriptions.
Metformin, for example, will have a different price based on the plan you choose.
When you gather your list, make sure to use the exact name written on the bottle.
Lisinopril is a very common blood pressure medication and is usually very inexpensive. The brand name for lisinopril is prinivil and is usually more costly than its generic counterpart.
If your bottle has the brand name, make sure to use it.
When you start inputting the information into Medicare's system, your out-of-pocket costs will change based on the type of medications that you are on.
In addition to your medications, you'll need the quantities and dosages that you take. These also affect your out-of-pocket costs depending on what Part D plan you'll be looking at.
So remember the names of medications, dosages, and the quantities – vitamins and over-the-counter drugs do not count.
2. Understand the basics of Part D
As you may know, Part D plans offer coverage for prescription medications that you buy at a pharmacy. These plans are offered through private insurance companies that are regulated by Medicare and CMS (Medicare's parent company, if you will).
If you want more details on Part D, read more here.
Before a plan can be offered, it has to be approved by CMS.
Just like regular health insurance, Part D plans have:
deductibles
copays
coinsurance
premiums
All of these go toward the total out-of-pocket costs you may be responsible for.
Deductible
This is the amount you'll pay before the plan pays for your medications. Most plans typically don't make you meet your deductible on tier 1 and tier 2 medications.
Medications are broken down by tier.
The more expensive the medication, the higher the tier.
Tier 1 and tier 2 are preferred generic and generic. Tier 3 is Name Brand. Tiers 4 and 5 are for specialty drugs and have the highest cost.
Copay
This is a set amount you pay at the pharmacy when you pick up a prescription. The copay varies based on the plan and provider you use.
Coinsurance
Some companies make you pay a percentage of the medication instead of a set copay. This is known as coinsurance. The higher the tier of the medication the more the coinsurance is.
Premium
This is a simple one to understand, the cost of the plan itself. Basically the amount you'll pay to be on the plan. You can pay for it out of your social security check or bank draft.
Different levels of coverage
In addition to the costs listed above, you may also have to pay more depending on what level of coverage you fall in throughout the year.
These levels of coverage are:
initial coverage phase
gap coverage phase
catastrophic coverage phase
Initial coverage phase
This is the first set of benefits where most of your medications will have a lower cost and smallest copays.
The total costs of your medications cannot exceed the initial coverage phase limit. In 2021 it's $4130.
Make sure to check with Medicare (use this link) on what the new amounts are, they may change every year.
Gap coverage phase
This is known as the donut hole. Once your medications exceed the initial coverage amount, the cost of your Medications will increase.
The cost of name-brand medications in the donut hole cannot exceed 25% of the cost of the medication. Generic drugs won't cost more than 75% of the total cost of the medication. So the out-of-pocket is the same on both.
The difference here is that Medicare will discount name-brand medications, then you'll pay 25% of the discounted price. However, the total cost of the name-brand medication will count towards your maximum out of pocket while in the donut hole, before it is discounted.
If you get extra help with the cost of your medications, you'll avoid the coverage gap altogether.
The total cost while in the donut cannot be more than $6550
Catastrophic coverage phase
You'll hit this phase once your out-of-pocket reaches $6550 while in the donut hole. Here you'll pay only 5% of the cost of your Medications.
Just remember that you'll pay a different amount for the same medication depending on your coverage phase.
3. Find a broker
Of course, you can do all this homework yourself.
However, it is much easier with a broker.
Brokers represent a handful of different companies and most of the time their advice is unbiased.
In fact, they can do all of this homework for you.
All they typically require is that you provide them with a list of medications and they usually handle the rest.
Most brokers, including us, do not charge anything for their services.
The best part is that brokers typically do this for you at least once a year – which is what Medicare recommends.
Unless you like doing this yourself, a broker is the best way to go. Learn more about choosing who to work with here.
4. Learn to navigate Medicare's website.
Medicare's website has a lot of useful information.
Not only do they provide all the information you would need, but you can also apply for drug coverage directly on their site.
The only issue is that the information is very technical and hard to read.
They do provide you with a search tool where you can find everything you need to know about the different drug plans in your area.
Go to their website, medicare.gov, and click "Find Health and Drug Plans" to get started.
Once you do so, click that you want to continue without logging in.

Next, you'll want to select the option that you want information on "Drug plan (Part D) and enter your zip code and select your county.



5. Determine if you qualify for extra help with expenses.
If you get any kind of help with your costs, you'd want to make the appropriate selection. Doing so will give you the most accurate prices on all of your medications.
If you are unsure if you can qualify, here is an easy article that will point you in the right direction.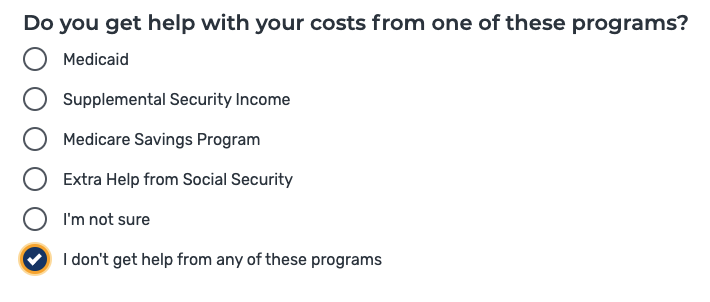 Extra help programs allow you to qualify for lower out-of-pocket costs with Part D plans.
These programs help reduce the cost of the copays that you would normally pay.
Medicare looks at your income to determine if you qualify, but you'll need to reach out to them to find out.
6. Enter your medications on Medicare's website.
Now, you'll be at the section where you enter all of your medications, quantities, and dosages.
The list that you've prepared you'll use in this section.
If you don't take any medications you'd skip this part and go straight to the plans.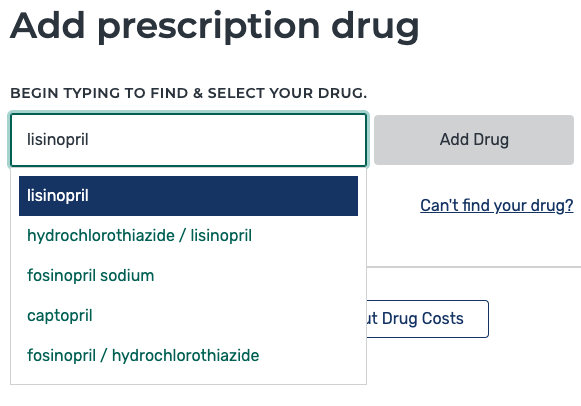 Don't forget to get the dosages and quantities, these are important.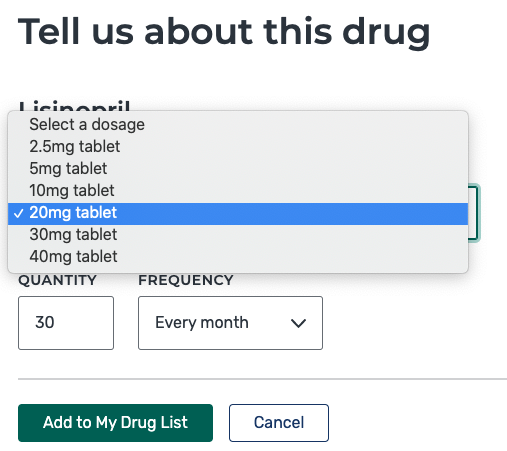 7. Make sure you're researching Part D and not Advantage
Above we mentioned to be careful about the selection that you are making. Medicare's website lets you choose drug plans as well as Advantage Plans.
Sometimes, we've seen people apply for the wrong coverage.
Remember, Part D is in addition to original Medicare while Advantage replaces it. Learn more about Advantage here.
It is important you pick that you need help with Part D.
Your claims and the providers you use will all be affected by the decision you are making right now.
Pay attention to the details and you shouldn't have any trouble.
8. Submit the information.
Your final step is to find the pharmacy that you use.
The cost of your medications will be affected by which one you prefer. You can always compare and pick a pharmacy that has the best prices.
Once you hit submit, you'll be presented with a list of the drug plans available in your area.
There is a lot to choose from and it can be a little overwhelming.
Keep reading to learn how to choose a plan.
9. Organize the list by lowest total cost.
First, you'll need to organize the plans.
You can choose to organize by
Lowest deductible
Lowest Drug + Premium Cost
Lowest monthly premium
Above we talked about what each one of these mean.
The most important is the TOTAL cost of the medications AND the cost of the Plan.
So make sure to organize the list by "Lowest Drug + Premium Cost."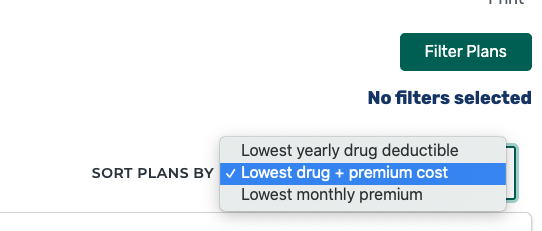 This way you'll be presented with the best-priced plans first.
Usually, we only look at the top 3 plans.
10. Look at the top 3 plans.
Once you have the plans organized you want to compare them side by side.
The website makes it very clear what you are comparing.
Pay attention to where the total costs for everything is listed.
You'll see the estimated total.
We need to make sure that you pick the plans that cost the least yet provide the biggest value.
Take a look at this example:



11. See what medications are covered
Once you've compared the plans, you'll want to click on the "plan details" to see the specifics of the plan.
Here you'll see a breakdown of your out-of-pocket costs.
Each plan shows with medications are covered and which ones are not.
Here is an example of what this looks like:

As you can see, in this example, there is a medication that is not covered by Part D.
In most situations, you'll want to pick a plan that does in fact cover all of your medications.
Sometimes, though, there are drugs that Medicare never pays for.
Medications never covered by Medicare.
There are a lot of medications that fall under this category.
Here is an example:
Drugs for weight loss, or weight gain

Fertility Drugs

Drugs for cosmetic purposes or hair growth

Relief of cough and cold symptoms medications

Prescription vitamins and mineral products

Nonprescription drugs

Drugs for sexual dysfunction

Non-FDA-Approved medications

Drugs the FDA has determined to be safe, but that may not work

Some compound medications

Drugs covered under Medicare Part A or Part B

Holistic Drugs
Once you pick a drug plan, you can reach out to the company to make an exception.
Sometimes Part D plans will add your medications, that are normally not covered by Medicare, to their formulary.
They usually make their determination on a case-by-case basis.
12. Pay attention to the donut hole.
In the donut hole, how much you'll pay for your medications goes up tremendously. Once you are out of your initial coverage phase, you can expect to pay more.
Instead of having a small copay on your Medications you can pay upwards of 25% of the entire cost!
Remember, we mentioned above that the total price of all your medications is what is applied towards the initial coverage amount, so if you are on a lot of drugs, one way to avoid the donut hole is to pay cash for some of your medications.
Online pharmacies like Goodrx and Jandrugs have discounted prescriptions that you can buy.
In some cases we've seen the prices lower than what it would cost if you used insurance.
If your medications are expensive, consider paying cash for some and using your insurance for the others. This way you'll stretch the amount of time it'll take you to hit the donut hole.
If you are on a name brand medication, chances are, the higher costs are making you reach the donut hole faster. If there is a generic available, talk to your doctor if it's a good fit.
Generic drugs a far less expensive and may prevent you from hitting the donut hole at all.
It definitely does not hurt anything to ask.
13. Compare costs with other pharmacies.
The pharmacy you use also effects the cost of your medications.
Pharmacies usually charge different prices for the same exact medications.
Medicare's website allows you to compare up to 3 pharmacies and their prices.
Pharmacies also have certain networks they participate in. If you use a preferred in network pharmacy, you'll pay less for your medications.
Talk to your agent and have them compare the costs of your medications with the pharmacies in your area.
We've seem significant savings just by our customers walking across the street to a different pharmacy.
It may take some time in pricing the pharmacies, but it pays dividends in the long run. We highly recommend it.
Whether you do this your or use an agent, this is one of they important parts to buying a Pard D drug plan.
Some agents refuse to do this work for their customers, if that's the case, you need to find a new agent.
14. Determine if you can afford the plan.
Once you've selected the plan and compared their prices, determine if it's something you can afford.
If you have lower income and can't afford the costs, apply for Medicare's extra help program.
Online pharmacies and coupons are also available to lower your costs.
Going without Part D coverage may cost more money in the long run, not to mention the penalties you'll pay.
Your agent should help.
15. Apply for the coverage.
Once you've decided which plan best fits your needs, it's time to apply.
The application process is very easy and takes just a few minutes.
Make sure you've done your research. If you make a decision too fast and pick the wrong plan, you'll have to wait until the next enrollment period before you'll be able to apply for new coverage.
16. Review the information you get in the mail.
Once you or your agent submit the application, it usually takes 10 days for the company to process the paperwork.
If you trying calling before that time, they'll tell you to wait.
After the application is approved, it takes another 2 weeks to get the policy and cards in the mail.
Altogether, it's about a 3 week process.
Review the paperwork and pay attention to any errors. You'll need to call the company to make any corrections. If you're using an agent, they can do that for you.
17. Make changes if needed.
It is important that all the information you've submitted matches Medicare's records.
Pay special attention to your Medicare number and your Social Security number.
If the information is wrong, you may not get your prescriptions covered.
Notify the company if you spot a mistake.
Unfortunately, mistakes happen. However, when it comes to your insurance, we need to make sure they're fixed right away.
18. Pay attention to enrollment periods
Earlier we mentioned enrollment periods.
As your medications change, your plan needs to change with them.
After you're out of your initial enrollment into Medicare, you'll have to wait until October 15 to make changes.
This is called the Annual Election Period.
If your current plan is making changes to their prices, coverage, or formularies, they'll notify you before the enrollment period begins. This allows you the opportunity to review your options.
In most cases, you'll change your Part D drug plan every single year.
If you are new to Medicare at the end of the year, you'll need to pick 2 plans. One for the remainder of the current year and one for the next.
So on Medicare's website, compare the plans for this year, then do the same process all over again for next year. This is very important.
Medicare makes it pretty clear what year you are applying for. Pay attention to it.
Summary
Applying for a drug plan isn't as easy as it seems.
There are a lot of moving parts and information to read.
Take your time. If you rush it you'll end up making mistakes.
Waiting till the last minute, or not doing anything at all will ultimately lead to you paying more.
Just because you like your coverage now, or it's worked for you fine in the past, doesn't mean it's the same plan for next year.
Do your research and pay attention to the literature your current company sends you.
Or, use an agent and save yourself the headache.