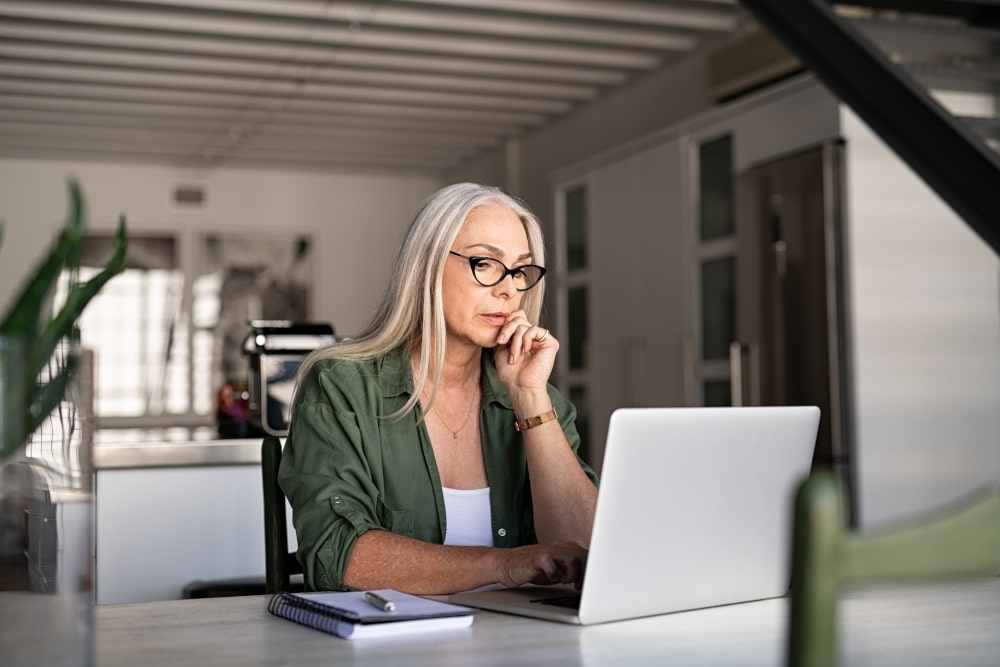 Every year, during Medicare's Annual Enrollment Period (AEP) from October 15th – December 7th, millions of Medicare Beneficiaries get hounded. Hundreds of pieces of mail, thousands of phone calls, and hours of TV commercials about all the different plan options that they have available. With a plethora of different choices – all (of course) claiming to be the best, how do you know what to choose or who to trust? With all that information, it's hard to even know where to get started.
If you are new to Medicare, or if you've been on Medicare for a while, the process for choosing a plan is the same, and it's fairly straightforward. In this article, we will go over 5 simple steps to make this year's AEP the easiest you've ever had.
Step 1: Collect Your Mail
The material that you are receiving in the mail is honestly – mostly junk.
However, sometimes your current plan will send out information that talks about how your coverage is changing for the coming year.
If your plan is changing, they are required to send out a letter explaining those changes.
We've seen some people accidentally throw important mail away thinking it's like the rest of the junk they have been getting, so keep an eye out for mail that comes from your current company.
Most Plans Change Annually.
A good rule, if it's from your current company, at least glance at it.
The easiest thing for you to do in this situation is to take your mail to your agent or broker.
If you do not have an agent, here is an article I wrote that talks about how to find one (click here). 
One of the biggest challenges when picking a plan from a TV commercial is finding something that is specific to your situation. Although the ads claim that they are the best, that is usually not the case and here's why:
The most important piece to the puzzle is missing – whether your current doctors, hospitals, and drugs are even covered.
Yes, they may have the best coverage and the lowest copays, but if your prescriptions are not covered, how is that relevant? Just because the ad claims they are the best doesn't mean that they are the best for you!
So how do you find the best plan? It's easier than you think. Keep reading to learn more.
Step 2: Gather a List of Your Medications
Earlier we mentioned the biggest issue with all the ads you're viewing is not knowing if your current medications are even covered.
This is why we say to compile a list of your medications, dosages, and their quantities.
Most plans need this information so they can give you specific prices and you'll also need it when it comes time to sort the plans.
Every Plan Has Different Formularies.
Formularies are a list that companies have that divide medications into what is known as tiers. The more expensive a Medication is, the higher the tier.
Each tier has its own level of coverage.
You can learn more about formularies and tiers here (click here).
What if You Don't Take Any Medications?
That's a great question, you'll skip Step 2 and compare the plans based on price.
We will cover what you need to do in the next step.
Step 3: Compare Your Options
There are two ways to do this step.
The easiest is calling your current agent (make sure that your agent is a broker – we are not tied to any specific product or company).
And keep in mind, not all are the same.
You need someone who has access to all the different companies, plans, and prices. A broker is usually unbiased and will not be pushy. You want them to recommend plans that are best for you, not the ones that pay the highest commissions.
Our people here at 2MinuteMedicare.com are in fact brokers. If you don't have anyone yet, we would love to help!
Now, the next section will talk about what steps your broker takes before recommending the best option. The process is the same if you were to do it yourself.
What if I Don't Have an Agent?
The good news, although more time-consuming, is that you can do this yourself.
You really don't need an agent, but we recommend getting one because of the time you'll save not having to do this all by yourself.
As I mentioned above, you'll still need to have a list of your medications.
Next, head over to Medicare.gov and click on "Find Health and Drug Plans."
Put in your zip code and choose which option you're trying to compare.
The 5 choices are:
Drug Plan (Part D) + Medigap Policy
I want to learn about the Medicare options before I see plans
Confused about the different choices? The links above will take you to articles we wrote to help you understand what each category is.
For the sake of this article, let's assume you are comparing drug plans (when comparing Medicare Advantage Plans, the process is similar, but in addition to your list of medications, you'll need a list of your providers also).
Enter your zip code, select Drug Plan (Part D), click "Apply", and then "Start":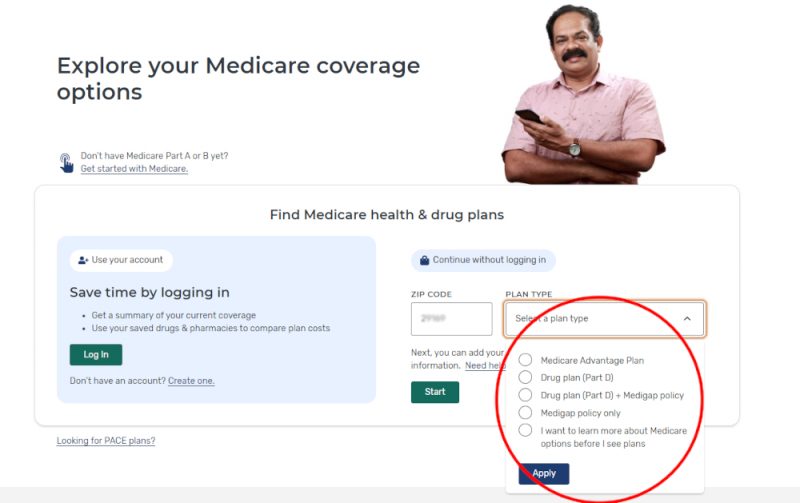 Help With Your Costs
In this section, you'll choose if you are receiving financial help for the medications you currently take.
The prices for each medication and plan vary according to the choice you make.
For this example, let's assume you don't get any financial help: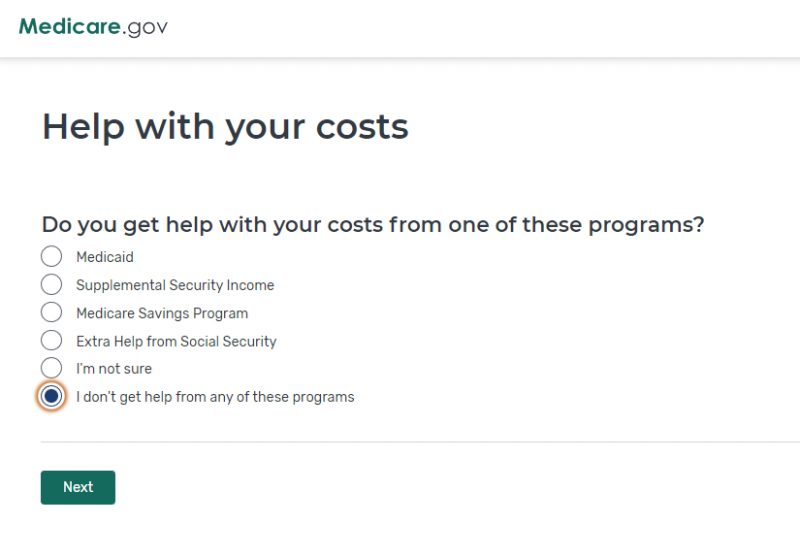 Tell Us Your Search Preferences
This is where you choose if you take any medications or not.
For this example, we are going to choose yes: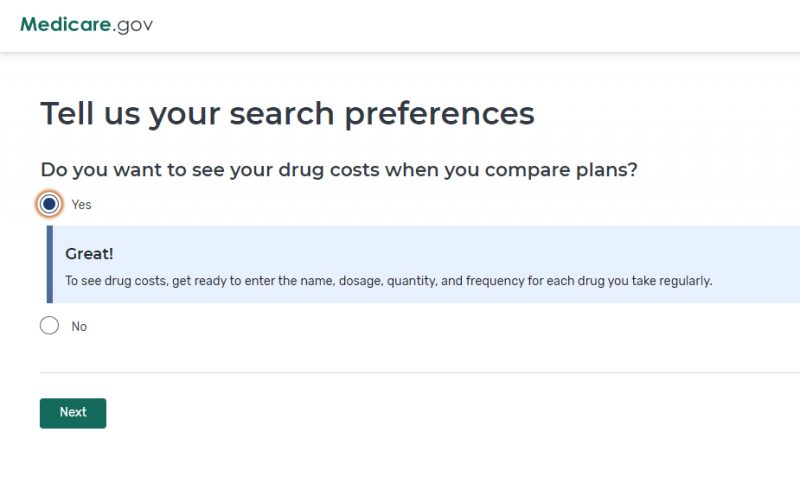 Adding Prescription Drugs
This is where the list of medications you collected comes in handy.
You'll enter the name of the mediation, the dosage, and how many you take each month: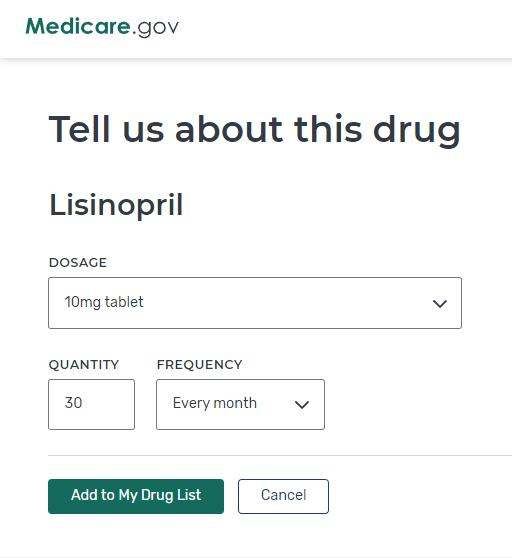 Choosing Your Pharmacy
Here you'll enter the pharmacy you're using when you go to purchase your prescriptions.
Notice how you can choose up to 5 different pharmacies.
If you're curious how your current pharmacy compares, you can select more than one to see the difference in cost.
As an agent – this is my favorite part! I love saving my clients money.
Step 4: Sort the Plans
Once you've entered your medications and picked your pharmacies, you'll be able to view your options.
This is where you can sort your plans.
We always recommend sorting by lowest drug cost + premium amount, and here is why: having the lowest deductible doesn't mean you'll pay less. Sometimes, you can have a very low deductible, but your copay is 3x as much.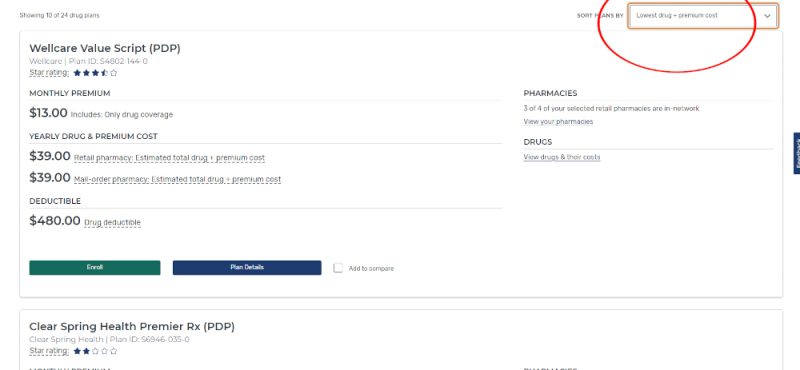 The same goes if you are considering a plan with the lowest premium. A plan with the lowest premium will likely mean higher out-of-pocket (but not always). We only recommend the lowest premium for someone who takes no prescription medications, although even in those situations, we tell people to be careful.
Sorting by lowest drug cost + premium amount will list the plans by the least amount you'll pay for the year.
It takes all of your copays, premiums, and deductibles then adds them all up and gives you the estimated price for the entire year.
This is the number you'll use to choose your plan.
Pay attention to all of the medications on your list. It is vitally important to make sure they are all covered.
We recommend comparing the top 3 plans: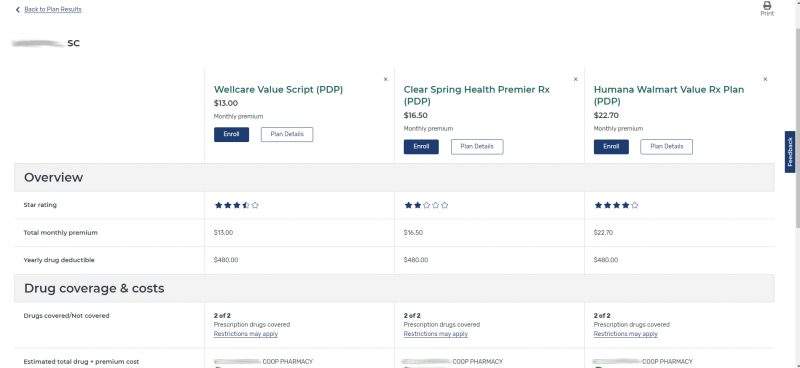 Step 5: Pick Out a Plan and Enroll
Once you've compared your options, you're ready to choose a plan and enroll.
The process is very easy!
Just make sure you have your Medicare card handy.
A Couple of Things to Remember:
If you currently have a drug plan and enroll in a new one, you'll automatically be disenrolled from your current plan when the new one comes into effect (usually on January 1st).
The same goes for Medicare Advantage Plans, the new one automatically replaces the old one.
If you are new to Medicare, you'll need to pick 2 separate plans and go through this process twice. Once to finish out the current year, and once for the new plan year that's coming up.
This is extremely important because this year's best plan could be next year's worst. You need to do both years and make sure you're in the best plan for 2022 and for 2023.
If you have an agent, make sure they don't forget to do this step.
Summary
After being in this business for almost 15 years, I understand the challenges that seniors face when it comes to Medicare. The phone never stops ringing, the information is overwhelming, and you'd probably rather watch paint dry. I understand.
The good news is that help is around the corner. Most of the time, I can do the entire process in less than 20 minutes.
Unlike Medicare.gov, as brokers, we have special tools that make the process a lot quicker. All I need is a list of medications and/or doctors and you'll be done before you know it.
Medicare.gov is a great resource but it does take more time – a lot more time.
If you need any help and prefer to speak by phone, please call us at (888) 209-5049.
You can also text me your questions, I welcome the opportunity to help you with your Medicare needs! I can be reached via text at (803) 542-5068.
Or, if you would like further detail on any of the topics we discussed, please fill out a contact form and submit your questions.